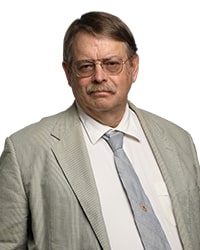 William "Bill" Price is Of Counsel to the firm. He is the 2012 recipient of the ISBA Section of General Practice "Tradition of Excellence" award.
His private practice includes securities law work for companies raising capital, purchasing and selling businesses, and managing their day to day legal and regulatory problems, as well as business and administrative litigation, international and national contracts and deals, and nonprofit entity law.
He was the 2014-16 Chairman of the Institute for Illinois Business Laws, in which capacity he chaired the subcommittees that wrote both versions of the state Limited Liability Companies Act. He served as the 2007-08 Chairman for the Corporation, Securities, and Business Law (now Business and Securities Law) Section Council of the ISBA, and is a current bar year member of that Section Council. Bill is also a current bar year member of the Administrative Law Section Council, which he has also chaired, and for which he is general editor for the current edition of the ISBA Handbook of Illinois Administrative Law, and edits the Section newsletter, and of the ISBA Business Advice and Financial Planning Section Council.
He was appointed by Governor Edgar and confirmed by the Illinois Senate as the state Small Business Utility Advocate. He also has taught courses in private equity and venture capital project financing at the Stuart Graduate School of Business, Illinois Institute of Technology.
SPEECHES AND PUBLICATIONS
Books by Mr. Price include Limited Liability Organizations (Specialty Technical Publications, Vancouver, BC), which covered all forms of business entity in the 50 states and many foreign countries and Illinois Law Office Practice Forms (Michie Co., 1995), which provides a forms set for use in business, real estate, and family estate matters for Illinois law offices. He has contributed chapters for many Illinois Institute on Continuing Legal Education titles, and has served as general editor for their book on Limited Liability Companies and S Corporations.
RELATED NEWS
Duke University, J.D. and MPPS, 1978
University of Illinois, Urbana-Champaign, B.A., magna cum laude, 1974
BAR AND COURT ADMISSIONS
MEMBERSHIPS
Illinois State Bar Association, Securities and Business Law Section Council
Illinois State Bar Association, Administrative Law Section Council
ACKNOWLEDGMENTS
Matthew Maloney Tradition of Excellence Award (2012)