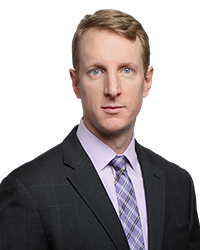 An experienced attorney in intellectual property protection and enforcement, with a background in electrical engineering, Matthew "Chip" De Preter has helped numerous companies and individuals protect, build value, and profit from their creative products through patents, trademarks and copyrights.
He advises clients in patent, trademark, trade secret and false advertising litigation. In addition, he represents clients seeking patent and trademark protection before the U.S. Patent and Trademark Office. He also negotiates licensing and other intellectual property agreements.
Chip is experienced in representing patent owners in the enforcement of their patents against various infringers in the market place. He has also represented domestic and multi-national companies against accusations of patent infringement, anti-trust violations, the misappropriation of trade secrets and unfair competition.
Chip has also engaged in counseling clients in the avoidance of litigation. Through assessing competitor's patent portfolios and working with engineers developing clients' products, he has identified potentially risky product features and provided practical solutions that clients have implemented to avoid litigation. Additionally, he has assisted clients faced with allegations of infringement in identifying those key areas of the accused technology that distinguished their technology from the accused patents and effectively conveyed that information to adverse parties to prevent litigation in the first instance.
In practicing before the U.S. Patent and Trademark office, Chip has assisted individual and corporate clients in seeking and procuring patent protection in a variety of different technological areas, including medical equipment, vacuum pumps, vending machines, robotics, semi-conductor chips, optics and tools. He also has considerable experience with post-grant patent review processes. His trademark practice includes assisting clients in identifying prospective trade names, preparing trademark applications, prosecuting and procuring trademark protection.
REPRESENTATIVE MATTERS
Orthoflex, Inc. et al. v. ThermoTek, Inc. (N.D. Texas), Case No. 11-CV-00870-D – Member of a litigation team that overturned a $9.5 million jury award, obtained a ruling dismissing all claims against our client, Orthoflex, and successfully defended that dismissal on appeal before the U.S. Court of Appeals for the Fifth Circuit.

Tandem Technologies, LLC v. Fastcorp 3, LLC et al. (D. Massachusetts), Case No. 3:15-cv-30105 - Secured a settlement of client's claims for breach of contract, fraud and civil conspiracy stemming from misappropriation of business information relating to the client's patented robotics.

Grunt Style v. TWD (S.D. Cal.) Case No. 18-cv-0532; TWD v. Grunt Style (N.D. Ill.) Case No. 18-cv-01736; TWD v. Grunt Style (N.D. Ill.) Case No. 18-cv-07695 - As lead counsel, focused on obtaining advantageous venue for Grunt Style and its assertion of trademark infringement against TWD as well as defending against accusations of trademark infringement by TWD. The parties clashed over dueling cases filed in California and Illinois, with the California action ultimately being transferred to Illinois and the Illinois action being dismissed in favor of proceeding with the transferred California action. Dismissed portions of TWD's claims and all TWD's affirmative defenses under Rule 12(c). The case is in its beginning stages.

Nike, Inc. v. Hummel Sport USA et al. (D. Massachusetts), Case No. 1:16-cv-11559 - Represented Hummel in defending against multiple claims of patent infringement by Nike, and ultimately secured an agreeable settlement.

Grunt Style v. Rivera (TTAB) (Cancelation No. 92068648) - As lead counsel, proceeding before the TTAB in a cancelation proceeding to advance Grunt Style's prior and superior rights to its trademark "Grunt Style" which had been barred from registration by the junior mark "Grunt Life 12" " owned by Rivera. The parties reached an amicable resolution.

United States and The Administrators of the Tulane Educational Fund v. Cytogel Pharma, LLC (E.D. LA) Case No. 16-cv-13987 - Successfully represented Tulane in a declaratory judgment action that addresses counterclaims of patent infringement, misappropriation and breach of contract relating to novel peptide compounds. After dismissing several counterclaims, and achieving favorable summary judgment rulings dismissing additional counterclaims, advanced the case through additional successful pretrial motions including striking Cytogel's experts and placing the parties in position for settlement days prior to trial.

Responsive Innovations v. Holtzbrink Publishers and Macmillan Publishers (N.D. Ohio) Case No. 08-cv-01184; Responsive Innovations v. Holtzbrink Publishers and Macmillan Publishers (E.D. Ohio) Case No. 10-cv-02312 - In two separate, but related matters, successfully represented Holtzbrink and Macmillan Publisher in defending against claims of patent infringement involving a related patents directed to dedicated devices utilizing a specialized telecommunication protocol. After achieving advantageous claim construction rulings, orchestrated a multi-pronged validity challenge relying on prior art, the new indefiniteness standards set down in Nautilus v. Biosig, and unpatentable subject matter challenge in view of Alice v. CLS Bank, while simultaneously attacking the patents through an ex parte reexamination that resulted in a rejection of all claims in view of the prior art. The strategy successfully facilitated a favorable settlement.

Goss International Americas, Inc. v. Graphic Management Associates Inc. et al., (N.D. Illinois), Case No. 05-C-5622 - Successfully reached settlement after defending client against assertion of patent infringement by plaintiff involving patent for computerized control system that regulated industrial collating and inserting machines used to assemble newspapers and magazines.
SPEECHES AND PUBLICATIONS
Chip is the editor of, and regular contributor to, Aronberg Goldgehn's Intellectual Property Law Alert, including:
His recent presentations include:
"SCOTUS IP Year in Review 2019-2020," a Lawline webcast, Sept. 21, 2020.
PROFESSIONAL BACKGROUND
Chip joined Aronberg Goldgehn as a Member in November 2019, and in 2022 became co-chair of the firm's Intellectual Property practice group. Previously he was a member at Olson & Cepuritis, Ltd., where he had practiced law since 2014.
For the first eight years of his legal career, Chip practiced with Rockey and Lyons (formerly Rockey, Depke & Lyons, LLC), where he initially focused on patent prosecution work for Sony. Eventually transitioning away from that into almost full-time patent litigation, he handled large litigations with more than $100 million in damages at issue, as well as smaller cases and others in between.
In 2020, Chip was named a Leading Lawyer in Intellectual Property Law and Patent Law by Illinois Leading Lawyers.
Prior to receiving his J.D. from DePaul University College of Law, Chip obtained a B.S. in Electrical and Electronic Engineering from Marquette University in Milwaukee.
COMMUNITY INVOLVEMENT
Chip is an active member of his local parish, Queen of All Saints in Sauganash, where he serves as a Service Chair of the QAS Men's Club and where his two boys attend school.
RELATED NEWS
DePaul University College of Law, J.D., 2006
Marquette University, B.S., Electrical and Electronic Engineering, 2002
BAR AND COURT ADMISSIONS
Illinois, 2007
U.S. District Court for Northern District of Illinois, including Trial Bar
U.S. Patent and Trademark Office
U.S. Court of Appeals for the Fifth Circuit
MEMBERSHIPS
American Bar Association
Chicago Bar Association
American Intellectual Property Association
International Trademark Association
Institute of Electrical and Electronics Engineers (IEEE)
ACKNOWLEDGMENTS
Illinois Leading Lawyer in Intellectual Property Law and Patents (2020)
PERSONAL
Chip focuses his non-legal energy on enjoying life with his wonderful wife and two boys. As lovers of the outdoors, the family is currently focused on its quest to visit the numerous National Parks across the country. Closer to home, Chip enjoys helping his elder son practice soccer, baseball, lacrosse and other sports, and working with his younger son in more artistic pursuits and Lego projects. Chip and his wife stay happily busy cooking together and continually finding home renovation projects.
What is one item on your bucket list? SUBA diving the Great Barrier Reef. This trip would kill a flock of birds with one stone. I've never been SCUBA diving, and I've never been to Australia. There are also amazing cities, and lush rainforest to see down under. And while I'm down there, I'm sure I can squeeze in a Lord of the Rings tour of New Zealand. The trip will have to wait, temporarily, until the whole family is ready to fully enjoy the experience.
What is your favorite place in Chicago? The Lake front trail, in which I will cheat and include Lincoln Park Zoo and Museum Campus. I lived downtown for a few years and could not get enough of running along the Lake. My wife and I would frequently take walks over to the Field, Shed or Adler and tour aimlessly around for an afternoon. Even now, we will often go as a family to one of the attractions and spend time biking along the Lake.
What is the best vacation you've ever been on? Just after graduating high school, I took a three week trip to Europe with my mom and older brother. We visited family in London and saw castles in Scotland. We visited France; stayed with friends living in the Black Forest in Germany; drove the autobahn; and toured Munich, Neuschwanstein and other towns across Germany. My bother any I finished out the trip with a week of hiking in the Swiss Alps.