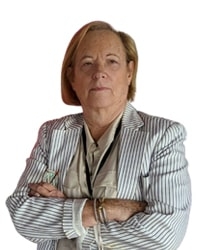 Judy is a health care attorney with a wide range of experience representing hospitals, long-term care providers, nursing homes, and other health care providers with respect to litigation, regulatory, compliance, and transactional matters.
Her litigation experience includes serving as lead counsel in state and federal actions involving Medicaid, Medicare, the Illinois State Prompt Payment Act, the False Claims Act, and state and federal agencies, including a U.S. Supreme Court class-action suit on behalf of Illinois Medicaid providers challenging Medicaid reimbursement practices. Her published opinions include:
Kaiser v. MEPC American Properties, Inc., 164 III. App. 3d 978, 518 N.E.2d 424, 115 III. Dec. 899 (III. App.) 2nd Dist., Dec 18, 1987)(NO. 87-1094)
Paramount Health Systems, Inc. v. Wright, 907 F.Supp. 1212, 49 Soc.Sec.Rep.Serv. 742, Med & Med GD (CCH) P43,988 (N.D.Ill., Dec 01, 1995)(NO. 95 C 1620), 1983
People v. Gurell, 98 Ill. 2d 194, 456 N.E.2d 18, 74 Ill. Dec. 516, October 04, 1983
Illinois League of Advocate for the Developmentally Disabled v. Quinn, 2013 WL 3287145, 2013 WL 3776862
In addition to litigation, Judy's experience includes HIPAA compliance, contract review for Stark and Anti-Kickback issues, corporate governance, and significant transactional work involving acquisitions, financing, and operations of multi-facility healthcare and long-term care providers.
Judy has served as lead counsel on internal investigations to respond to complaints, federal and state government audits, civil investigative demands, and employee whistleblower matters. She has defended false claims, violations of the Anti-Kickback Statute, Medicare/Medicaid fraud, billing fraud, and false certification claims. Her experience also includes negotiating consent decrees on behalf of health care clients in the Office of Inspector General of Illinois Healthcare and Family Services as well as the U.S. Department of Health and Human Services.
Judy has significant experience with alternative dispute resolution, serving as an arbitrator registered with the American Arbitration Association, the American Health Lawyers Association, and as a bar-certified mediator for the Chicago Bar Association.

In 2022, she was elected to serve as the Regulatory and Compliance practice committee Chair for the Chicago Bar Association.
REPRESENTATIVE MATTERS
Filed an amicus brief in the United States Supreme Court in Star Athletica, LLC v. Varsity Brands, Inc., 580 US ______, 137 S. Ct. 1002; 197 L. Ed. 2nd 254 (2017)
Serve as lead counsel for long-term health care facility tenant operator with respect to $28 million mortgage foreclosure
Chief Regulatory Counsel for national real estate firm acquisition of 13 long-term health care facilities in Illinois
Chief Regulatory Counsel on acquisition of four long-term health care facilities in Wisconsin
Serve as outside regulatory counsel (Illinois)
Extensive work in HIPAA compliance including drafting and review of compliance plans, Business Associate agreements, counseling on potential data breaches and mandatory statutory and regulatory notification
Contract review for Stark and Anti-Kickback issues as well as drafting and monitoring of corporate health care compliance plans relating to corporate governance of health care organizations
Audit review of Medicare and Medicaid and administrative review relating thereto
Served as lead counsel in preparation and implementation of compliance plan for fifty facilities and five state long-term care organizations
Served as lead counsel on class-action suit on behalf of providers of Medicaid services in Illinois, challenging Medicaid reimbursement scheme in U.S. Supreme Court
Served as lead counsel for securitization on receivable financing of $40 million for 15-facility nursing home chain
Served as lead counsel for securitization on mortgage financing of $120 million for 20- facility nursing home group
Special counsel to ten medical providers in Illinois Court of Claims case to recover interest payments under the State Prompt Payment Act; decided in favor of providers: Garden View, et al. vs. State of Illinois and the Illinois Department of Public Aid, No. 03 CC 4059
Special counsel to Voice of the Retarded (VOR) and approximately 250 objectors for successfully defending in federal court entry of consent decree and class certification to ensure choice for developmentally disabled persons in the State of Illinois
Served as lead counsel for 2500 objectors/intervenors in Ligas v. Hamos in Northern District of Illinois resulting in consent decree involving private developmentally disabled residents and placement choice in Illinois
Lead counsel on acquisition and formation of operating entities for long term care facilities in Illinois, Wisconsin, Missouri and Indiana
Lead counsel on HUD financing matters for acquisition and receivable financing for long term care facilities
Served as lead trial and appellate counsel in Illinois League of Advocates of Illinois v. Illinois Department of Human Services involving declaratory and injunctive relief in class action brought by guardians and residents of State Operated Developmental Facilities to prevent closure of facilities
Special Counsel to Illinois League of Advocates of Illinois on on-going legal issues and negotiations with state agencies relating to guardians rights in the treatment of their wards through Medicaid entitlement programs and regulations
Lead counsel on defense of False Claims Act civil suit against major Illinois Hospice Client including defense of Civil Investigative Demand, coordination of criminal counsel, negotiation with US Attorneys' office and Office of the Inspector General of state of Illinois and Inspector General of Center for Medicare and Medicaid Services (CMS)
Defense of providers (physicians, nursing homes, hospice, home health agencies) in regulatory matters including professional licensing, potential termination of provider agreements, and other regulatory actions
Defense of CMS and state audits of provider claims in both Medicare and Medicaid audit proceedings
Lead counsel on internal investigations to respond to complaints, Civil Investigative Demands, whistleblower employee matters
Corporate formation, operational set-up and licensure of hospice and home health agencies in Illinois, Wisconsin, Missouri, Iowa and Indiana
PROFESSIONAL BACKGROUND

Judy joined Aronberg Goldgehn in 2021. Prior to that, she practiced in the Chicago office of several different national law firms. Judy serves as an Adjunct Professor at Loyola University School of Law, teaching Business Ethics and Legal Writing, and acts as a thesis advisor. Earlier in her career, she served as an Adjunct Professor at institutions including Oakton Community College, John Marshall Law School and Spertus Institute.

In her legal career, Judy previously served on the Inquiry Board and the Hearing Panel of the Illinois Attorney Registration and Disciplinary Commission (ARDC). Since 2023, she has been named to The Best Lawyers in America list by Best Lawyers for her advancements in Litigation - Health Care and was named 2024 "Lawyer of the Year."

In the community, Judy has served on the Boards of Directors of the Jewish Family and Community Service and the Council for Jewish Elderly.
ARTICLES AND PUBLICATIONS
"Corporate Governance and Ethical Issues" - Panelist, Society for Corporate Compliance and Ethics (Washington, DC)
"Legal Ethics in Illinois" - Presenter and Moderator, Lorman Educational Services (Chicago)
"Surveys - Licensure and Enforcement in Long-Term Care Litigation" - Illinois Institute for Continuing Education
"Ethics of Internal Investigations" - Lorman Educational Services Legal Ethics Seminar (Chicago)
RELATED NEWS
The John Marshall Law School, J.D.
University of Chicago Divinity School, A.M.
University of Chicago, M.L.A.
Roosevelt University, B.A.
BAR AND COURT ADMISSIONS
Illinois
U.S. District Court for the Central District of Illinois
U.S. District Court for the Northern District of Illinois, including Trial Bar
United States Supreme Court
United States Tax Court
MEMBERSHIPS
Chicago Bar Association, Member, Committee on Judicial Evaluation (2021)
Illinois State Bar Association
American Bar Association
American Health Lawyers Association, Arbitrator (2016-present)
Decalogue Society of Lawyers
American Arbitration Association, Panel Member, Commercial and Health Care (2010-2022)
ACKNOWLEDGMENTS
Illinois Leading Lawyer in Healthcare
AV Preeminent rating, Martindale-Hubbell Law Directory
COMMUNITY INVOLVEMENT
Jewish Family and Community Service, Board of Directors, 2004-2006
Council for Jewish Elderly, Board of Directors, 2007
Project LEAP (Legal Elections in All Precincts), Founder
PERSONAL
In my free time – free time? What is that? Judy enjoys playing guitar – blues, 80s and 90s rock and folk music; hanging out with my two cats (Gracie and Mr. Q); reading; crying over the Cubs; figuring out British mysteries; visiting with my son in Upstate NY and my other family in far-flung places like Skokie and California; cooking on the weekends.
What is your favorite thing about working at Aronberg Goldgehn? The collegial atmosphere and the opportunity to practice law with all these terrific lawyers.
What is one item on your bucket list? Alaskan cruise.
What would you be doing if you weren't a lawyer? Managing a major league baseball team – if they would let me; otherwise being an actress.
What is the best vacation you've ever been on? First time in Israel.
What is your favorite restaurant? Le Colonial.
What is something most people don't know about you? Not going to tell you something most people don't know because then they will know it.