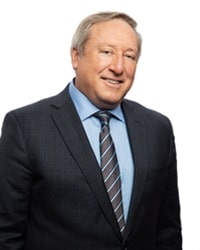 Gary P. Hollander has devoted more than 35 years litigating numerous trial and appellate disputes. He represents parties in shareholder and partner disputes, trust and estate disputes and other lawsuits that often involve claims of fraud, breach of fiduciary duties and requests for emergency injunctive relief.
As an experienced and successful trial attorney who has tried cases in state and federal courts across the country, Gary strives to reach favorable resolutions without the necessity of trial when possible. However, when necessary, Gary aggressively pursues all aspects of litigation and appeals, regularly receiving successful and desired results for his clients.
Gary is also a court approved mediator in the Circuit Court of Cook County, Illinois.
REPRESENTATIVE MATTERS
Secured a seven-figure verdict from a jury in Texas, plus an award of several hundred thousand dollars in attorneys' fees, on behalf of a client who had a "handshake deal" to receive profits from a commodity futures trading fund.
Obtained a distribution of over $20 million for a client in a dispute involving family limited partnerships, a Charitable Lead Annuity Trust and a charitable foundation. The distribution provided the client with all relief requested in his petition to dissolve the family limited partnerships.
Obtained a jury verdict for over $2 million in compensatory damages and $1.5 million in punitive damages for a client in a lawsuit involving competing claims as to which party had breached the terms of a joint venture agreement.
Secured a directed defense verdict on a claim for several million dollars asserted by the plaintiffs against the client after he terminated the plaintiffs from a successful online retail business due to their misconduct.
Obtained a judgment of $5.2 million on behalf of the client, a minority shareholder whose co-shareholders usurped the opportunity to be exclusive sales representatives for a leading computer company.
Successfully defended a client against an involuntary bankruptcy petition that was filed by a former shareholder of the client. The client was awarded compensatory damages, punitive damages, attorney fees and compensation for the value of the time the remaining shareholder spent to assist in defending against the bankruptcy petition.
Obtained a jury verdict on behalf of an insurance carrier where it denied a claim on a homeowner's policy because the insured had committed arson and submitted a fraudulent property loss claim.
Obtained or successfully defended against the entry of temporary restraining orders and preliminary injunctions in numerous matters involving shareholder/partner disputes, enforcement of non-competition agreements, trade secret violations and various other commercial disputes.
PROFESSIONAL BACKGROUND
Gary joined Aronberg Goldgehn in November 2020.
He earned his J.D., with honors, from the John Marshall Law School where he later served as an adjunct professor teaching lawyering skills and legal writing.
He has been recognized as a Super Lawyer in Business & Corporate Law and a Leading Lawyer in both Civil Appellate Law and Commercial Litigation.
COMMUNITY INVOLVEMENT
Adjunct Professor, The John Marshall Law School (2010-2015; 1990-1991)
Judicial Evaluation Committee, Chicago Bar Association
LEADERSHIP ROLES
Judge, Various mock trial and moot court competitions
Mentor for annual mock trial competition
RELATED NEWS
The John Marshall School of Law, J.D. with honors (1982)
DePaul University (1975 - 1978)
BAR AND COURT ADMISSIONS
Illinois
United States District Court for the Northern District of Illinois
United States Court of Appeals for the Seventh Circuit
United States Supreme Court
LEADERSHIP ROLES
Judge, Various mock trial and moot court competitions
Mentor for annual mock trial competition
COMMUNITY INVOLVEMENT
Adjunct Professor, The John Marshall Law School (2010-2015; 1990-1991)
Judicial Evaluation Committee, Chicago Bar Association
ACKNOWLEDGEMENTS
Illinois Super Lawyer in Business & Corporate Law
Illinois Leading Lawyers in Civil Appellate Law & Commercial Litigation