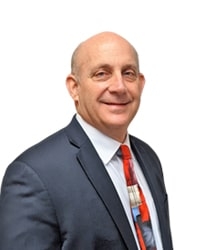 David Feldman is an accomplished litigation attorney concentrating his practice on business, estate, trust and probate disputes, as well as family law. His experience also includes commercial and real estate litigation, including significant trial experience, injunctive relief, and enforcement of restrictive covenants and breach of contract.
David's transactional experience includes the drafting and negotiating of commercial and vendor contracts, real estate sale and leasing agreements and employment agreements.
A unique aspect of David's professional career is his 12 years spent in the C-suite as CEO and General Counsel of Glassworks, Inc., the leading glass company in Chicago serving the residential and commercial real estate markets. In this role, David was responsible for day-to-day business operations, product development and management, marketing, HR, and legal matters. This experience gives David a holistic understanding of his clients' business needs and goals and allows him to craft complementary legal solutions.
PROFESSIONAL BACKGROUND
David joined Aronberg Goldgehn in 2022. Prior to joining the firm, he practiced for 10 years at a boutique law firm in the Chicago area. Earlier in his professional career, he served as the CEO and General Counsel of Glassworks, Inc., the leading glass company in Chicago, as well as in private practice for approximately 15 years.
University of Illinois College of Law, J.D.
University of Illinois, B.S.
PERSONAL
In his free time, David enjoys running, racquetball and golf. In addition, David loves to travel and cook.
What is your favorite place in Chicago? I love the Art Institute and viewing the impressionist artwork.
What is the best vacation you've ever been on? Traveling to Rome, Florence and the Amalfi Coast with my family.