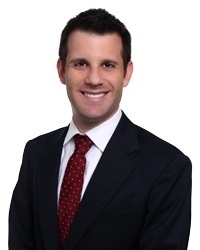 Benjamin is a business litigation attorney who assists small- and medium-sized companies realize practical solutions to business disputes involving contracts, shareholders/members, employees, trademarks and other similar instances of alleged wrongdoing. He works closely with his clients to explore resolutions with the aim of avoiding or minimizing litigation costs while maximizing the client's return.
A skilled litigator, Benjamin has successfully represented his clients' interests in a broad range of complex litigation in state and federal courts as well as private arbitrations centers in shareholder rights, contract disputes, trade secrets, restrictive covenants and other business torts. He has also litigated cases involving the Uniform Commercial Code, ERISA and the Lanham Act.
Benjamin is directly involved in all phases of civil litigation, including the initial investigation, pleadings, discovery, dispositive motions and trials. He is also an accomplished appellate lawyer having drafted and argued a number of successful appeals in the Illinois Appellate Courts.
REPRESENTATIVE MATTERS
Won appeal affirming the dismissal of breach of contract claim against a bank for depositing checks into wrong corporate account by based upon expiration of statute of limitations.

Participated in a two-day mediation that resulted in favorable settlement of a lawsuit brought by the Receiver of company to recover account receivable of $2.9 million.

Obtained summary judgment defeating plaintiff's claims for trademark infringement and unfair competition under the Lanham Act by proving that client had established prior use of the mark and that the plaintiff did not acquire any rights by purchasing the building that is commonly associated with the mark.

Obtained summary judgment on behalf of ERISA claimant that reversed plan fiduciary's salary calculation, which included improper salary adjustment based upon productivity.

Obtained summary judgment on behalf of foreign medical university on claim of age discrimination and retaliation by proving that foreign university was not controlled by an American employer.

Negotiated purchased of membership interest on behalf of member of limited liability company who filed suit against LLC and co-members for wrongful expulsion.

Won appeal affirming grant of summary judgment on behalf of a secured lender against creditor seeking to impose constructive trust over $1.4 million in proceeds of a debtor's assignment for the benefit of creditors.

Drafted successful cross-motion for summary judgment against the Plan Administrator for a bankruptcy debtor asserting Section 548 fraudulent conveyance claim.
Prevailed on Motion for Directed Finding after the close of plaintiff's case-in-chief defending against claims of adverse possession and implied easements.

Obtained summary judgment on behalf of member of limited liability company who was sued for breach of fiduciary duties and violating restrictive covenants.
Obtained deferral of removal under the United Nation's Convention Against Torture on behalf of Belize citizen seeking asylum in the United States by substantiating claims that the respondent had been tortured and threatened by the Belize Police Department.
SPEECHES AND PUBLICATIONS
Ben has co-authored:
"Easing the Path Toward an Involuntary Law Firm Break-Up," published in the CBA Record, September/October 2020 edition.

"Minority Stakeholder Rights," Chapter 4 in "Disputes Involving Closely Held Companies 2020 Edition," published by the Illinois Institute for Continuing Legal Education, Feb. 2020.
Ben's presentations include:
"Book & Records Requests Under Delaware & Illinois Law: The Dos & The Do Nots" at the Chicago Bar Association's Business Divorce and Complex Ownership Committee meeting, Sept. 9, 2019.

"Books & Records Request Strategies Under Sect 7.75 of the Illinois Business Corporation Act & Illinois LLC Act and Litigation Issues," at the Chicago Bar Association's Business Divorce & Complex Ownership Dispute Committee meeting, Nov. 12, 2018.

"Admitting Complex Electronic Materials Into Evidence," a DuPage County Bar Association CLE seminar sponsored by the Civil Law and Practice Section, March 10, 2017.
Ben is also the author of "The Disappearance of the Requirement That the Internal Revenue Service Exhaust All Reasonable Collection Efforts Against the Primary Obligor," published in the Federal Taxation newsletter of the Illinois State Bar Association's Section on Federal Taxation, Vol. 63 No. 1, September 2016.
PROFESSIONAL BACKGROUND
Ben was promoted to Member at Aronberg Goldgehn in January 2020. He joined the firm as an associate in 2011 after graduating magna cum laude from Loyola University Chicago School of Law.
Since 2017, Ben has been recognized annually as an Emerging Lawyer in Commercial Litigation by Illinois Leading Lawyers. Additionally, since 2018, he has been named a Rising Star by Illinois Super Lawyers.
While a law student, he was a member of the Vis Moot Court team that competed against international law students in Hong Kong and was an editor for the International Law Review.
COMMUNITY SERVICE
Ben is a member of the Executive Board of Legal Aid Chicago's Ambassadors Board, which supports the mission and programs of Legal Aid Chicago by helping to raise the resources needed to make equal justice a reality for the most vulnerable people in the community. He was the co-chair of the Outreach Committee from 2017 through 2019, and is currently a co-chair of Member Engagement.
RELATED NEWS
Loyola University Chicago School of Law, J.D., magna cum laude, 2011
University of Wisconsin - Madison, B.A., History and Political Science, 2005
BAR AND COURT ADMISSIONS
Illinois, 2011
U.S. District Court for the Northern District of Illinois
United States Tax Court
MEMBERSHIPS
Chicago Bar Association
Illinois State Bar Association
ACKNOWLEDGMENTS
Emerging Lawyer in Commercial Litigation by Illinois Leading Lawyers (2017-2020)
Rising Star in Business Litigation by Illinois Super Lawyers (2018-2022)
PERSONAL
In his spare time, Ben enjoys going on runs with his Border Collie, exploring Chicago's always expanding list of restaurants and breweries with his wife, traveling abroad, and cheering for Boston sports teams.
What would you be doing if you weren't a lawyer? I would be in marketing and think of the next great advertising scheme for a domestic beer company.
What is the best vacation you've ever been on? I went to Colombia on my honeymoon, dividing the time between the Caribbean city of Cartagena, a coffee plantation in Manizales and Medellin.
What is your favorite restaurant? Schwa, in Wicker Park. It combines exceptional food with a unique atmosphere that is always fun.