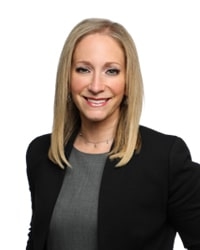 Amy Gibson is Co-Chair of Aronberg Goldgehn's Commercial Litigation and Employment Practice Groups, co-chair of the firm's DEI Committee, and a member of the firm's Executive Management Committee.

Amy directly manages a successful legal practice and navigates and resolves intricate claims involving contractual disputes between businesses, fraud, theft of trade secrets, discrimination claims, and enforcement of non-competition agreements. She also acts as an integral part of in-house HR teams in helping to manage compliance with ever-changing employment laws, update policies, address charges, conduct internal investigations, train, and handle sensitive terminations.

Amy serves business clients in several industries, including restaurants, non-profit organizations, physicians and medical groups, advertising and marketing agencies, general contractors, manufacturers, distributors, real estate developers, retailers, and closely held businesses. She prioritizes and delivers high-touch service leading to strong, genuine, and lasting relationships.

In her role as Co-Chair of the DEI committee, Amy has helped to identify and lead initiatives that drive greater inclusion and representation. She led a subcommittee in achieving the prestigious Midsize Mansfield Certification for firms committed to diversity in leadership.

Amy has received various accolades, including being recognized on the "Best Lawyers in America" list, named to the "Forty Under 40" list of Illinois Attorneys to Watch, and was selected as an "Emerging Lawyer in Commercial Litigation" and as a "Rising Star in Business Litigation" for multiple years.
REPRESENTATIVE MATTERS
Defended several organizations against discrimination and harassment claims before the EEOC, state departments of human rights, state and federal courts, appellate courts, and through arbitration.
Protected organizations' assets and trade secrets through litigation against former employees for breach of fiduciary duty and breach of non-competition and non-solicitation agreements.
Managed complex commercial litigation, involving business-to-business contract disputes, claims for fraud, consumer fraud, shareholder disputes, and claims for tortious interference with contract.
Helped organizations maintain compliance with ever-changing employment laws by reviewing and revising employee handbooks and policies.
Guided confectionery company with nationwide sales through organization-wide I-9 audit and assisted in assessing next steps and reducing possible exposure.
Negotiated employment contracts on behalf of employers, including employment agreements for Mid to C-suite level leaders, as well as confidentiality, intellectual property, and separation agreements.
Conducted sensitive employee investigations involving sexual harassment, violation of policies, and discrimination.
Regularly strategized with C-suite and HR stakeholders to determine how to minimize risks in employment policies and procedures and achieve best practices.
Developed and conducted custom training for multiple large clients on compliance with the ADA, based on each company's experiences and needs.
Represented a manufacturer of cash/coin recyclers in negotiations with Costco for a multi-year contract to place the recyclers in Costco stores nationwide.
Obtained $1 million in punitive damages on summary judgment in a multi-year dispute between family members and a family-owned business, after discovering the opposing party absconded with more than $2 million in funds.
Guided a client as to revising form terms and conditions to be favorable to the client in future transactions.
Created a process for a national hardware retailer to manage and respond to subpoenas seeking employee records.
SPEECHES AND PUBLICATIONS
An experienced speaker and author on employment law topics, Amy is the editor of, and regular contributor to, Aronberg Goldgehn's Employment Law newsletter, Employment Law Trending Now, including:
Amy is co-author of "Personal Liability in Closely Held Entities," Chapter 2 in "Disputes Involving Closely Held Companies 2023 Edition," published by the Illinois Institute for Continuing Legal Education, Aug. 2023, an update to the chapter she first co-authored and published for IICLE in Feb. 2020.
She has presented:
"Insights on Embracing DEI," DCBA Diversity Symposium, May 16, 2023.

"Best Practices for Employment Interviews," March 23, 2023.

"ADA Training for Supervisors and Managers," June 15, 2022.

"Professional Development Best Practices and Strategies," Chicago Bar Association panel, March 2, 2022.

"Covid-19 Vaccination Policies," EmPower HR webinar, March 11, 2021.

"A Recap of the Families First Coronavirus Response Act and CARES Act," a webinar for the National Association of Professional Pet Sitters, April 2, 2020.

"The ADA at 30: A Look Back and a Look Forward at Current Trends Relating to Reasonable Accommodations and Other Issues Raised in Employment Claims," at the CBA's "A New Year, A Fresh Perspective on Issues Under the Americans with Disabilities Act," seminar, Jan. 9, 2020.
"The American With Disabilities Act," a private client seminar, Oct. 3, 2019.

"2018 Employment Law Hotspots - ADA Website Accessibility, Marijuana in the Workplace and Ban the Box Laws," a private client seminar, April 17, 2018.

"Employment Law: Highlights From 2017 and Beyond" to The Decalogue Society of Lawyers, September 27, 2017.

"Arbitration v. Litigation: A True Hobson's Choice," to the Association of Corporate Counsel, 2012.
In 2017, Amy presented on and wrote about the new-at-the-time Cook County Earned Sick Leave Ordinance and Chicago Paid Sick Leave Ordinance, and completed a thorough guide to both. Specifically, these were:
In addition, Amy has been invited on several occasions to be a guest lecturer at Chicago-Kent College of law to discuss the topics of attorney billing and discovery in the Illinois court system.
PROFESSIONAL BACKGROUND
Amy joined Aronberg Goldgehn as a law clerk in 2006 and, upon graduation from law school, as an associate in 2007. She became a Member/Partner in the firm in January 2015. Amy has served the firm as a member of the Executive Management Committee since 2022. In this role, she focuses on specific management tasks including firm policy-making, strategic planning, and culture and relationship building.

Amy was named to The National Law Journal's 2022 Employment Law Trailblazers list for her commitment to advancing in diversity, equity and inclusion (DEI) within the firm and the employment law industry.

In 2021, Amy was recognized as a "Forty Under 40" Illinois Attorneys to Watch by Chicago Lawyer Media, the publisher of Chicago Lawyer and Chicago Daily Law Bulletin.
In July 2017 she was listed in Crain's Custom Media's inaugural edition of "The Most Influential Women Lawyers in Chicago."
Since 2015, Amy has been recognized annually as a Leading Lawyer or Emerging Lawyer in Commercial Litigation and Employment Law by Illinois Leading Lawyers, and since 2010 has been recognized by Illinois Super Lawyers on its Super Lawyers or Rising Stars lists in Business Litigation. Since 2023, she has been named to The Best Lawyers in America list by Best Lawyers for her advancements in Employment Law - Management.
COMMUNITY INVOLVEMENT
Chicago-Kent College of Law (Student Mentor)
National Employment Law Institute (Certified for ADA Professional Training)
LEADERSHIP ROLES
Executive Management Committee Member, Aronberg Goldgehn (2022-present)
Co-Chair, Commercial Litigation Practice Group at Aronberg Goldgehn
Co-Chair, DEI Committee at Aronberg Goldgehn
Chicago Bar Association's Labor & Employment Law Committee, former Co-Chair (2019-2020)
Chicago Bar Association's Alliance for Women Committee, Co-Chair (2020-2021); Co-Vice Chair (2019-2020); Executive Committee Member (2018-2019)
RELATED NEWS
IIT Chicago-Kent College of Law, J.D., 2007
DePaul University, B.S., Finance, with honors, 2004
BAR AND COURT ADMISSIONS
Illinois
U.S. District Court for the Northern District of Illinois, including Trial Bar
U.S. District Court for the Central District of Illinois
U.S. District Court for the Eastern District of Wisconsin
U.S. Court of Appeals for the Seventh Circuit
MEMBERSHIPS
Chicago Bar Association, Alliance for Women Committee, Co-Chair (2020-2021), former Co-Vice Chair (2019-2020), former Executive Committee Member (2018-2019); Labor & Employment Law Committee, former Co-Chair (2019-2020)
Illinois State Bar Association
American Bar Association
ACKNOWLEDGMENTS
Forty Under 40 Illinois Attorneys to Watch, Chicago Lawyer Media (2021)
Crain's Chicago Business's Most Influential Women Lawyers in Chicago (2017)
Emerging/Leading Lawyer in Commercial Litigation by Illinois Leading Lawyers (2015 - Present)
Rising Star/Super Lawyer in Business Litigation by Illinois Super Lawyers (2010 - Present)
CALI Award for Trial Advocacy (2007)
CALI Award for Legal Writing (2006)
Employment Law Trailblazers, National Law Journal (2022)
PERSONAL
Amy is well traveled, having been to Greece, Israel, Italy, Spain, Argentina, Chile, Australia, Croatia and the Czech Republic, among other places. In her free time, she enjoys spending time with family (including her husband and young daughter), working out, snow skiing, ice skating, and hiking. She is also a self-described 'foodie' and enjoys trying new restaurants, cooking and baking.
What is your favorite thing about working at Aronberg Goldgehn? I love the team atmosphere and always having someone to bounce an idea off of.
What is one item on your bucket list? Traveling to Bora Bora because it looks incredibly serene and beautiful.
What would you be doing if you weren't a lawyer? I would be a professional event planner because I love to plan and host parties.
What is your favorite place in Chicago? The Lakefront.
What is the best vacation you've ever been on? The Greek islands.
What is your favorite restaurant? There are too many to choose from, but my latest obsession is GT Fish & Oyster.
What is something most people don't know about you? I competitively figure skated for 15 years.