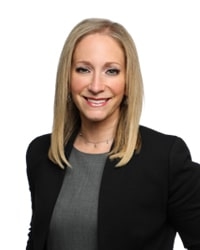 Amy Gibson is Co-Chair of Aronberg Goldgehn's Commercial Litigation Practice Group, co-chair of the firm's DEI Committee, and a member of the firm's Executive Management Committee. She focuses her legal practice on complex commercial litigation, including claims involving shareholder disputes, fraud, consumer fraud, breach of contract, and real estate.
She also defends local and national employers in litigation and administrative proceedings involving claims by employees for discrimination, retaliation, violation of state and federal wage and hour laws, and worker misclassification. Amy's employment practice encompasses assisting businesses with the protection of their assets and trade secrets by pursuing claims against former employees for breach of fiduciary duty, misappropriation of trade secrets, and breach of non-competition agreements. Amy counsels employers on a wide-range of employment matters, such as employment policies, compliance with state and federal employment laws, internal investigations, terminations, and classification of independent contractors/employees.
Amy has been instrumental in the firm's growth of its employment law practice. She makes it a priority to stay current on changes in the law, emerging trends in the employment context, and how those changes and trends impact her clients.
Amy represents a broad range of clients, including restaurants, banks, national non-profit organizations, closely-held businesses, physicians and medical groups, general contractors, energy companies, manufacturers, distributors, real estate developers and retailers.
She also serves as an arbitrator for the Cook County mandatory arbitration program.
SPEECHES AND PUBLICATIONS
An experienced speaker and author on employment law topics, Amy is the editor of, and regular contributor to, Aronberg Goldgehn's Employment Law newsletter, Employment Law Trending Now, including:
Amy is co-author of "Personal Liability in Closely Held Entities," Chapter 2 in "Disputes Involving Closely Held Companies 2023 Edition," published by the Illinois Institute for Continuing Legal Education, Aug. 2023, an update to the chapter she first co-authored and published for IICLE in Feb. 2020.
She has presented:
"A Recap of the Families First Coronavirus Response Act and CARES Act," a webinar for the National Association of Professional Pet Sitters, April 2, 2020.

"The ADA at 30: A Look Back and a Look Forward at Current Trends Relating to Reasonable Accommodations and Other Issues Raised in Employment Claims," at the CBA's "A New Year, A Fresh Perspective on Issues Under the Americans with Disabilities Act," seminar, Jan. 9, 2020.

"The American With Disabilities Act," a private client seminar, Oct. 3, 2019.

"2018 Employment Law Hotspots - ADA Website Accessibility, Marijuana in the Workplace and Ban the Box Laws," a private client seminar, April 17, 2018.

"Employment Law: Highlights From 2017 and Beyond" to The Decalogue Society of Lawyers, September 27, 2017.

"Arbitration v. Litigation: A True Hobson's Choice," to the Association of Corporate Counsel, 2012.
In 2017, Amy presented on and wrote about the new-at-the-time Cook County Earned Sick Leave Ordinance and Chicago Paid Sick Leave Ordinance, and completed a thorough guide to both. Specifically, these were:
In addition, Amy has been invited on several occasions to be a guest lecturer at Chicago-Kent College of law to discuss the topics of attorney billing and discovery in the Illinois court system.
PROFESSIONAL BACKGROUND
Amy joined Aronberg Goldgehn as a law clerk in 2006 and, upon graduation from law school, as an associate in 2007. She became a Member/Partner in the firm in January 2015. Amy has served the firm as a member of the Executive Management Committee since 2022. In this role, she focuses on specific management tasks including firm policy-making, strategic planning, and culture and relationship building.

Amy was named to The National Law Journal's 2022 Employment Law Trailblazers list for her commitment to advancing in diversity, equity and inclusion (DEI) within the firm and the employment law industry.

In 2021, Amy was recognized as a "Forty Under 40" Illinois Attorneys to Watch by Chicago Lawyer Media, the publisher of Chicago Lawyer and Chicago Daily Law Bulletin.
In July 2017 she was listed in Crain's Custom Media's inaugural edition of "The Most Influential Women Lawyers in Chicago."
Since 2015, Amy has been recognized annually as a Leading Lawyer or Emerging Lawyer in Commercial Litigation and Employment Law by Illinois Leading Lawyers, and since 2010 has been recognized by Illinois Super Lawyers on its Super Lawyers or Rising Stars lists in Business Litigation. Since 2023, she has been named to The Best Lawyers in America list by Best Lawyers for her advancements in Employment Law - Management.
COMMUNITY INVOLVEMENT
Chicago-Kent College of Law (Student Mentor)
National Employment Law Institute (Certified for ADA Professional Training)
LEADERSHIP ROLES
Executive Management Committee Member, Aronberg Goldgehn (2022-present)
Co-Chair, Commercial Litigation Practice Group at Aronberg Goldgehn
Co-Chair, DEI Committee at Aronberg Goldgehn
Chicago Bar Association's Labor & Employment Law Committee, former Co-Chair (2019-2020)
Chicago Bar Association's Alliance for Women Committee, Co-Chair (2020-2021); Co-Vice Chair (2019-2020); Executive Committee Member (2018-2019)
RELATED NEWS
IIT Chicago-Kent College of Law, J.D., 2007
DePaul University, B.S., Finance, with honors, 2004
BAR AND COURT ADMISSIONS
Illinois
U.S. District Court for the Northern District of Illinois, including Trial Bar
U.S. District Court for the Central District of Illinois
U.S. District Court for the Eastern District of Wisconsin
U.S. Court of Appeals for the Seventh Circuit
MEMBERSHIPS
Chicago Bar Association, Alliance for Women Committee, Co-Chair (2020-2021), former Co-Vice Chair (2019-2020), former Executive Committee Member (2018-2019); Labor & Employment Law Committee, former Co-Chair (2019-2020)
Illinois State Bar Association
American Bar Association
ACKNOWLEDGMENTS
Forty Under 40 Illinois Attorneys to Watch, Chicago Lawyer Media (2021)
Crain's Chicago Business's Most Influential Women Lawyers in Chicago (2017)
Emerging Lawyer in Commercial Litigation by Illinois Leading Lawyers (2015 - Present)
Rising Star in Business Litigation by Illinois Super Lawyers (2010 - Present)
CALI Award for Trial Advocacy (2007)
CALI Award for Legal Writing (2006)
PERSONAL
Amy is well traveled, having been to Greece, Israel, Italy, Spain, Argentina, Chile, Australia, Croatia and the Czech Republic, among other places. In her free time, she enjoys spending time with family (including her husband and young daughter), working out, snow skiing, ice skating, and hiking. She is also a self-described 'foodie' and enjoys trying new restaurants, cooking and baking.
What is your favorite thing about working at Aronberg Goldgehn? I love the team atmosphere and always having someone to bounce an idea off of.
What is one item on your bucket list? Traveling to Bora Bora because it looks incredibly serene and beautiful.
What would you be doing if you weren't a lawyer? I would be a professional event planner because I love to plan and host parties.
What is your favorite place in Chicago? The Lakefront.
What is the best vacation you've ever been on? The Greek islands.
What is your favorite restaurant? There are too many to choose from, but my latest obsession is GT Fish & Oyster.
What is something most people don't know about you? I competitively figure skated for 15 years.