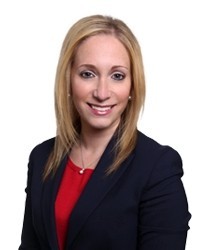 Amy is Co-Chair of Aronberg Goldgehn's Commercial Litigation Practice Group. She focuses her practice on complex commercial litigation, including, without limitation, claims involving shareholder disputes, fraud, consumer fraud, breach of contract between businesses, and real estate.
Amy also defends local and national employers in litigation and administrative proceedings involving claims by employees for discrimination, retaliation, violation of state and federal wage and hour laws, and misclassification. Amy's employment practice also encompasses assisting businesses with the protection of their assets and trade secrets by pursuing claims against former employees for breach of fiduciary duty, misappropriation of trade secrets, and breach of non-competition agreements. Amy also counsels employers on a wide-range of employment matters, such as employment policies, compliance with state and federal employment laws, internal investigations, terminations, and classification of independent contractors/employees.
In the course of her practice, Amy has represented a broad range of clients, including restaurants, banks, charitable organizations, family run businesses, doctors, general contractors, energy companies, factories, manufacturers, distributors, landlords and retail stores, to name a few. She has represented clients in state and federal court, before administrative agencies, such as the Equal Employment Opportunity Commission, and in arbitration.
SPEECHES AND PUBLICATIONS
Amy has been invited on several occasions to be a guest lecturer at Chicago-Kent College of law to discuss the topics of attorney billing and discovery in the Illinois court system.
She also represented the firm at an event hosted by the Association of Corporate Counsel in 2012 at which time she spoke on a panel discussing the differences between arbitration and litigation. Amy co-authored the white paper for that event titled "Arbitration v. Litigation: A True Hobson's Choice."
PROFESSIONAL BACKGROUND
Amy joined Aronberg Goldgehn as a law clerk in 2006 and, upon graduation from law school, as an associate in 2007. She became a Member/Partner in the firm in January 2015.
From 2015-2017, Amy has been recognized annually as an Emerging Lawyer in Commercial Litigation by Illinois Leading Lawyers, and for 2010 through 2017 as a Rising Star in Business Litigation by Illinois Super Lawyers.
In her free time, Amy enjoys participating in physical activities, including running, snow skiing, ice skating, weight lifting, hiking, Turbokick, Insanity and yoga. She is also a self-described 'foodie' and enjoys trying new restaurants, cooking and baking. Amy is well traveled having been to Greece, Israel, Italy, Spain, Argentina, Chile, Australia, Croatia and the Czech Republic. There are many more destinations on her bucket list.
COMMUNITY INVOLVEMENT
Chicago-Kent College of Law (Student Mentor)
LEADERSHIP ROLES
Co-Chair, Commercial Litigation Group
IIT Chicago-Kent College of Law, J.D., 2007
DePaul University, B.S., Finance, with honors, 2004
BAR AND COURT ADMISSIONS
Illinois
U.S. District Court for the Northern District of Illinois
U.S. District Court for the Central District of Illinois
U.S. District Court for the Eastern District of Wisconsin
MEMBERSHIPS
American Bar Association
Chicago Bar Association
Illinois State Bar Association
ACKNOWLEDGEMENTS
Recognized as an Emerging Lawyer in Commercial Litigation by Illinois Leading Lawyers (2015, 2016)
Named a Rising Star in Business Litigation by Illinois Super Lawyers (2010-2017)
CALI Award for Trial Advocacy (2007)
CALI Award for Legal Writing (2006)
PERSONAL
What is your favorite thing about working at Aronberg Goldgehn? I love the team atmosphere and always having someone to bounce an idea off of.
What is one item on your bucket list? Traveling to Bora Bora because it looks incredibly serene and beautiful.
What would you be doing if you weren't a lawyer? I would be a professional event planner because I love to plan and host parties.
What is your favorite place in Chicago? The Lakefront.
What is the best vacation you've ever been on? The Greek islands.
What is your favorite restaurant? There are too many to choose from, but my latest obsession is GT Fish & Oyster.
What is something most people don't know about you? I competitively figure skated for 15 years.