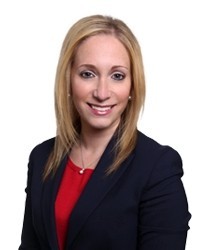 Amy M. Gibson is Co-Chair of Aronberg Goldgehn's Commercial Litigation Practice Group. She focuses her practice on complex commercial litigation including, without limitation, claims for breach of contract, fraud, consumer fraud, shareholder disputes, employment litigation and consulting, and real estate litigation.
In the course of her practice, Amy has represented a broad range of clients including restaurants, banks, charitable organizations, family-run businesses, doctors, general contractors, energy companies, factories, manufacturers, landlords, and retail stores, to name a few.
Amy appreciates that there is no such thing as a "one size fits all" approach to representing clients. Throughout a client relationship, she makes a concerted effort to get to know each client as a person, not just as a client. Whenever she speaks with clients, she makes it a priority to begin the conversation by asking them how they are doing and learning more about them. Getting to know the people she represents gives her a better understanding of their expectations, needs and goals, all of which helps the relationship run more smoothly.
REPRESENTATIVE MATTERS
Obtained dismissal of a claim for tortious interference with contract and business expectancy based on the doctrine of res judicata and lack of standing

Successfully resolved a dispute between shareholders of a video gaming company

Negotiated a favorable settlement for an owner of a commercial property in a claim against its tenant, a hardware store, for breach of the lease and for damages to the property

Defended a telecommunications company against a lawsuit filed in federal court by one of the world's largest telecommunication companies for trade secret misappropriation, computer fraud and breach of fiduciary duty

Helped an individual and corporate client settle a lawsuit filed against them by a former commercial landlord for fraudulent transfers

Negotiated a resolution of litigation on behalf of a grocery store client with a former independent contractor who operated the floral department of the grocery store

Negotiated an amicable resolution on behalf of a staffing company with a former independent contractor

Obtained summary judgment on behalf of a company in the business of selling acoustical wood panels in a lawsuit filed by the general contractor of a construction project at the University of Illinois at Chicago

Achieved a favorable settlement for our client, an individual who was wrongfully disinherited from a deceased friend's will

Obtained a successful resolution of a claim filed in the Illinois Department of Human Rights by a former employee of our client, a company in the business of manufacturing metal springs

Obtained dismissal of a lawsuit against a trucking company. In the lawsuit, a former truck driver for the trucking company sued the company for breach of contract and violation of the Illinois Minimum Wage Law. The Illinois state court judge granted our motion dismiss, with prejudice, holding that the truck driver could not state a claim against the trucking company for either cause of action
SPEECHES AND PUBLICATIONS
Amy has been invited on several occasions to be a guest lecturer at Chicago-Kent College of law to discuss the topics of attorney billing and discovery in the Illinois court system.
She also represented the firm at an event hosted by the Association of Corporate Counsel in 2012 at which time she spoke on a panel discussing the differences between arbitration and litigation. Amy co-authored the white paper for that event titled "Arbitration v. Litigation: A True Hobson's Choice."
PROFESSIONAL BACKGROUND
Amy joined Aronberg Goldgehn as a law clerk in 2006 and, upon graduation from law school, as an associate in 2007. She became a Member/Partner in the firm in January 2015.
She has been recognized as an Emerging Lawyer in Commercial Litigation by Illinois Leading Lawyers Network, a designation awarded to less than 2 percent of Illinois attorneys 40 years old or younger or in practice for 10 or fewer years. Also, she has been named a Rising Star in Business Litigation by Illinois Super Lawyers, a designation awarded to no more than 2.5 percent of Illinois attorneys 40 years old or younger or in practice for 10 years or less.
In her free time, Amy enjoys participating in physical activities, including running, snow skiing, ice skating, weight lifting, hiking, Turbokick, Insanity and yoga. She is also a self-described 'foodie' and enjoys trying new restaurants, cooking and baking. Amy is well traveled having been to Greece, Israel, Italy, Spain, Argentina, Chile, Australia, Croatia and the Czech Republic. There are many more destinations on her bucket list.
COMMUNITY INVOLVEMENT
Chicago-Kent College of Law (Student Mentor)
LEADERSHIP ROLES
Co-Chair, Commercial Litigation Group
IIT Chicago-Kent College of Law, J.D., 2007
DePaul University, B.S., Finance, with honors, 2004
BAR AND COURT ADMISSIONS
Illinois
U.S. District Court for the Northern District of Illinois
U.S. District Court for the Central District of Illinois
U.S. District Court for the Eastern District of Wisconsin
MEMBERSHIPS
American Bar Association
Chicago Bar Association
Illinois State Bar Association
ACKNOWLEDGEMENTS
Recognized as an Emerging Lawyer in Commercial Litigation by Illinois Leading Lawyers (2015, 2016)
Named a Rising Star in Business Litigation by Illinois Super Lawyers (2010-2017)
CALI Award for Trial Advocacy (2007)
CALI Award for Legal Writing (2006)
PERSONAL
What is your favorite thing about working at Aronberg Goldgehn? I love the team atmosphere and always having someone to bounce an idea off of.
What is one item on your bucket list? Traveling to Bora Bora because it looks incredibly serene and beautiful.
What would you be doing if you weren't a lawyer? I would be a professional event planner because I love to plan and host parties.
What is your favorite place in Chicago? The Lakefront.
What is the best vacation you've ever been on? The Greek islands.
What is your favorite restaurant? There are too many to choose from, but my latest obsession is GT Fish & Oyster.
What is something most people don't know about you? I competitively figure skated for 15 years.