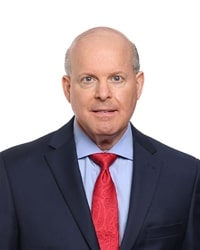 John C. Sciaccotta focuses his practice on litigation, arbitration and business counseling matters with a special emphasis on complex civil trial and appellate cases brought in federal and state courts throughout the United States. John has also been appointed by the American Arbitration Association as an Arbitrator and Lawyer Neutral to adjudicate various claims and disputes in arbitration.
For many years John has provided results-oriented and value-driven legal counsel and advice to public and privately held businesses, lenders, employers and individuals. In these and other concerns, he has experience dealing with numerous industries and business activities.
His litigation/trial services and business counseling work has included:
Counseling and representing corporations, limited liability companies, partnerships and their owners in issues involving corporate control, valuation, corporate squeeze-outs, minority oppression, and breach of fiduciary duty claims.

Representing property owners in various types of litigation against municipalities.

Interpreting and litigating complex contracts in construction negligence, commercial real estate, title insurance and mechanic's lien matters.

Prosecuting and defending doctors, accountants, engineers, architects, and real estate and insurance brokers in professional negligence and business fraud cases.

Advocating for various companies and individuals in trade secret misappropriation, and other unfair competition disputes.

Coordinating the investigation of business frauds, with the ultimate recovery of substantial sums of money.

Representing property owners in zoning and land use controversies.

Defending Fortune 100 company employees in employment discrimination claims.

Defending business entities and their owners in criminal investigations.

Representing banks and financial institutions in loan documentation transactions.

Arbitrating as a Neutral Panel Arbitrator in numerous arbitration disputes and controversies.
In addition, John has been involved in many appellate court decisions in which his clients have prevailed.
REPRESENTATIVE MATTERS
Successfully represented an heir of an Estate to block the sale of the Estate's interest in a closely held business that was to be sold for a devalued purchase price. John obtained an emergency Temporary Restraining Order ("TRO"), stopping the sale. The TRO was affirmed by the Appellate Court. John's legal theories that stopped the sale resulted in the heir becoming the majority and controlling owner of the business.

Successfully prosecuted and negotiated a favorable buyout of a founder of a technology company in a bitter and acrimonious business divorce

Successfully defended a professional services firm in a substantial post judgment collection proceeding

Successfully represented and obtained a favorable settlement in arbitration on behalf of a publically traded business entity in a dispute involving the contractual obligations for the sale and purchase of heavy duty construction equipment.

Represented and counseled business owners in the asset sale of a closely held business entity to a publically traded business entity. As part of the business sale, John was able to thwart and defend a significant threat of litigation involving the alleged misappropriation of trade secrets by the sellers that would have prevented the sale of the business.

Represented the largest Japanese Hotel owner/operator, with 242 hotels under its marquee, in negotiating and securing City of Chicago approvals and property re-zoning necessary for the construction of a 23-story, 615 room hotel in Chicago. The client intends to develop numerous hotels in the United States.

Secured a favorable outcome on behalf of a lender under a title insurance policy in U.S. Bankruptcy Court pursuant to fraud and equitable subordination and subrogation theories.

Represented and obtained a significant settlement on behalf of a professional sports league in a lawsuit involving insurance broker fraud and negligence in the procurement of worker's compensation insurance.

Represented and secured a favorable settlement for three entrepreneur-inventors in a lawsuit involving alleged trade secret misappropriation and breach of fiduciary duty related to a patented device.

Obtained a multimillion-dollar judgment in a fraud investigation involving the embezzlement of a closely held business and reported the investigation results to federal authorities, resulting in the ultimate filing of a federal indictment.

Successfully defended a business entity and its owner in a breach of contract and shareholder control/dispute litigation.

Successfully defended various business entities and their owners against fraud, breach of fiduciary duty, and conspiracy allegations involving the alleged fraudulent inducement of an investment transaction and the recovery of the investment funds.

Represented and secured a favorable defense and settlement of a trustee and co-guardian of a trust and a disabled person in an action to remove said trustee and co-guardian based upon allegations of fraud and breaches of fiduciary duties.

Successfully represented high level senior technology employees and their new employer against covenant not to compete, unfair competition, non-solicitation and trade secret misappropriation claims.

Defended corporate business clients against the City of Chicago for municipal code violation and demolition claims.

Represented a client, favorably, in a fee petition (fee-shifting) dispute and controversy.

Negotiated favorable operating agreement terms and conditions in a new start up technology company.

Arbitrated several matters, including a high stakes law firm partnership dispute
PROFESSIONAL BACKGROUND
John joined Aronberg Goldghen in April 2015 from Taft Stettinius & Hollister LLP. He practiced at its Chicago office predecessor firm, Shefsky & Froelich, for 15 years.
He has been awarded an AV® Peer Review Rating from Martindale-Hubbell, its highest rating for ethical standards and legal ability. Also among his accolades, since 2007 John has been recognized annually as a Leading Lawyer in Commercial Litigation by Illinois Leading Lawyers. He has also been named a Super Lawyer in Business Litigation by Illinois Super Lawyers, a designation awarded by peers to only 5 percent of Illinois attorneys.
SPEECHES AND PUBLICATIONS
"Reducing Unconscious Bias in the Courts and the Legal Profession," a Chicago Bar Association seminar, May 16, 2019.
"Books & Records Request Strategies Under Sect 7.75 of the Illinois Business Corporation Act & Illinois LLC Act and Litigation Issues," at the Chicago Bar Association's Business Divorce & Complex Ownership Dispute Committee meeting, Nov. 12, 2018.
"Delaware Law Update: Recent Valuation Issues in Business Divorces," at the annual meeting of the American Bar Association Business Law Section's Business Divorce Sub-Committee, Sept. 14, 2018.
Facilitator, Illinois Supreme Court Commission on Professionalism Law School Orientation Program at DePaul University College of Law, 2012-2013.
"Successful Strategies When Pursuing Equitable Remedies and Extraordinary Writs," Business Torts Committee Regional CLE Program.
COMMUNITY INVOLVEMENT
Barrington School District 220 Educational Foundation Board, Trustee
WINGS, Board of Directors Member
Chicago Bar Foundation, Past Trustee
Fenwick High School Bar Association, Past President and Founder
Fenwick High School, Oak Park, IL, Life Trustee
Illinois Fatherhood Initiative, Past President, Director
Creighton University
Pi Kappa Alpha Fraternity
DePaul University College of Law, Past Public Interest Law Board Member
Jesse White (Illinois Secretary of State) Tumblers, Inc., Past Director
Barrington (IL) High School Horseshoe Club and Baseball Booster Club
LEADERSHIP ROLES
Chicago Bar Association's Business Divorce and Complex Ownership Disputes Committee, Co-Founder and Vice Chair, 2018
The Chicago Bar Association, Board of Managers, 2017-2019; Bench and Bar Committee Chairman; Golf Outing Chairman
The Chicago Bar Foundation's Investing in Justice Campaign Leadership Representative, March 1997-Present; Board of Trustees, 2007-2013; Fall Benefit Gala, Co-Chairman
WINGS, Board of Directors Member
The DePaul University College of Law Dean's Council, Member, 2018-2021
Fenwick High School, Life Trustee, 2013-Present; Board of Trustees, 2007-2014
100 Club of Chicago, Director, 2010-2014
The Civic Federation of Chicago, Director, 2005- 2014
Illinois Equal Justice Foundation, Past Director
Chicago Legal Clinic, Past Director
Chicago Volunteer Legal Services, Past Director
Fenwick High School Bar Association, Founder, 1989; President, 2010- 2016
The Justinian Society of Lawyers, President, 2004-2005; Officer, 1999-2005
Chicago Legal Clinic, Director, 2007-2010
Museum of Broadcast Communications, Chicago, Vice President, Director, 2007-2012
Cook County Retention of Judges Lawyers Committee, Co-Chairman
Barrington High School Baseball Booster Club, President, 2013-Present
Barrington High School Horseshoe Club, President, 2016-Present
Illinois Fatherhood Initiative, President, 2009-2010
John has also served on numerous committees to elect judicial candidates and publicly elected officials.
DePaul University College of Law, J.D., 1987
Creighton University, BSBA Finance, 1984
BAR AND COURT ADMISSIONS
Illinois
United States Supreme Court
U.S. Court of Appeals for the Seventh Circuit
United States Tax Court
U.S. Court of Appeals for the Armed Forces
U.S. Court of Federal Claims
U.S. District Court for the Northern District of Illinois, including Trial Bar
MEMBERSHIPS
American Bar Association, Section of Litigation and Business Law Section, Business Divorce Subcommittee
Illinois State Bar Association
Chicago Bar Association, Commercial Litigation Section
Federation of Defense & Corporate Counsel
Justinian Society of Lawyers
Cook County Committee for Retention of Judges
Catholic Lawyers Guild of Chicago
National Italian American Foundation
The Lawyers Club of Chicago
The City Club of Chicago
Phi Alpha Delta Law Fraternity
Barrington High School Baseball Booster Club
Barrington High School Horseshoe Club
ACKNOWLEDGMENTS
2018 Recipient of the Accipiter Award from Fenwick High School, his alma mater, which honors members of the Fenwick community who have distinguished themselves in the legal profession
40 Under Forty Hall of Fame (2014)
Aquisition International's Best Illinois Lawyer for Complex Civil Trials (2014 )
AV Peer Review Rating from Martindale-Hubbell, its highest rating for ethics and legal ability
Recognized Annually as an Illinois Leading Lawyer in Commercial Litigation and Closely & Privately Held Business Law (2007-2019)
Named a Super Lawyer in Business Litigation by Illinois Super Lawyers
PERSONAL
John, his wife Esther, and four children reside in Barrington, Ill.

What is the best vacation you've ever been on? To Italy, Paris, Venice and London.
What is your favorite restaurant? Bella Notte, Chicago.
What is something most people don't know about you? Someday, I would enjoy teaching high school Business Law and coaching high school baseball.