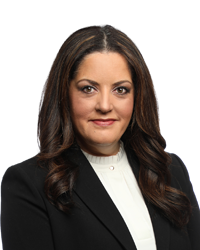 Vanessa Seiler represents banks, lenders, real estate investors and local municipalities in the areas of mortgage foreclosure, collections and real estate law. She is a highly experienced in serving as creditor's attorney in commercial and residential mortgage foreclosures and collections, and has successfully assisted local municipalities, banks and lenders resolve default issues.
Vanessa excels in representing lenders in court, and was honored by the former Chief Judge Dorothy Kinnaird of the Chancery Division of Cook County to be a member of the Cook County Mortgage Foreclosure Task Force. The Task Force helps determine the court system's handling of mortgage foreclosure cases.
In addition, Vanessa has developed a niche practice focused on representing real estate purchasers at judicial or sheriff sales.
SPEECHES AND PRESENTATIONS
Vanessa recently published "COVID-19 Impact on Post Judgment Collections," a Business Litigation Alert, April 17, 2020. The alert explains Executive Order 2020-25 and its impact on post-judgment actions relating to the collection of a consumer debt.
She recently presented "Titles" at Auction.com's Monthly Workshop for Real Estate Investors, Feb. 19, 2020.
PROFESSIONAL BACKGROUND
Vanessa joined Aronberg Goldgehn in December 2019. Previously she practiced at Saul Ewing Arnstein & Lehr LLP. Prior to her tenure with that firm, she was an attorney at several prominent law firms focusing on all aspects of lender/creditor representation, including real estate tax deed petitions, replevins, forcible entry and detainer actions, collection and bankruptcy.
Vanessa is fluent in French.
RELATED NEWS
Chicago Kent College of Law, J.D., 1999
Drake University, B.A., 1995
BAR AND COURT ADMISSIONS
MEMBERSHIPS
Illinois State Bar Association, Member of the Commercial Banking, Collections and Bankruptcy Committee
Chicago Bar Association, Member of the Real Property Law Committee
Women's Bar Association of Illinois
Illinois Creditors Bar Association
Cook County Mortgage Foreclosure Task Force