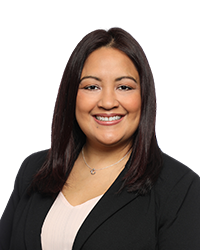 Sandra has counseled and represented creditors and financial institutions for 15 years, concentrating her work in foreclosures, loan restructurings, workouts and bankruptcy matters on behalf of creditors. She has extensive experience in a wide variety of real estate finance transactions, loan sales and purchases, enforcement of leasehold rights in personal and real property, and the sale of commercial and residential properties.
Sandra is skilled in guiding clients through the legal landscape of loan modifications and workouts as well as complex title matters. Her common sense approach helps clients achieve their goals while minimizing the time and cost to accomplish them.
SPEECHES AND PRESENTATIONS
Sandra recently published "COVID-19 Impact on Post Judgment Collections," a Business Litigation Alert, April 17, 2020. The alert explains Executive Order 2020-25 and its impact on post-judgment actions relating to the collection of a consumer debt.
She recently presented "Titles" at Auction.com's Monthly Workshop for Real Estate Investors, Feb. 19, 2020.
PROFESSIONAL BACKGROUND
Sandra joined Aronberg Goldgehn in December 2019. Previously she practiced at Saul Ewing Arnstein & Lehr LLP.
She is a volunteer attorney with Minority Legal Education Resources, Inc. where she tutors and prepares prospective attorneys for the Illinois Bar Exam. While attending The John Marshall Law School, she served as a Clinic Intern, preparing and filing federal complaints & HUD complaints on behalf of clients, and assisting HUD investigators and attorneys with investigations and discovery on possible discrimination.
Sandra is fluent in Spanish.
COMMUNITY INVOLVEMENT
Minority Legal Education Resources, Inc., Bar Preparation Program, Volunteer Tutor
Hispanic Lawyers Association of Illinois, J.D. Mentorship Program
The John Marshall Law School Alumni Association, Mentorship Program
LEADERSHIP ROLES
Illinois State Bar Association's Commercial, Banking, Collections and Bankruptcy Section Council, Chair, 2018-2019
The John Marshall Law School, J.D., 2005
University of Illinois at Urbana-Champaign, 2000
BAR AND COURT ADMISSIONS
MEMBERSHIPS
Hispanic Lawyers Association of Illinois, JD Mentorship Program
Chicago Bar Association (Commercial Litigation Committee, Bankruptcy and Reorganization Committee and Animal Law Committee)
Illinois State Bar Association (Chair of the Commercial, Banking, Collections and Bankruptcy Section Council, 2018-2019)
The John Marshall Law School Alumni Association, Mentorship Program