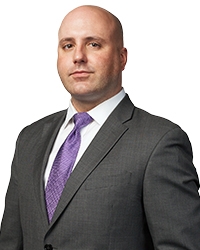 Tim Novel has extensive litigation experience, primarily in the areas of complex commercial litigation, enforcement of judgments and fraudulent transfer litigation.
He represents a wide variety of clients, including financial institutions, municipalities, corporations, and individual plaintiffs and defendants in state, federal and bankruptcy courts.
In addition to numerous civil trial victories, Tim routinely represents clients in actions to avoid fraudulent transfers and other post judgment enforcement proceedings. He has obtained positive results for clients in matters involving injunctive relief such as temporary restraining orders, injunctions and pre-judgment attachment actions.
REPRESENTATIVE MATTERS
Successfully litigated and ultimately resolved a matter involving the repatriation of several million dollars fraudulently transferred to an offshore bank account in an attempt to evade creditors

Successfully litigated and resolved a multimillion-dollar contested claim in a probate estate involving numerous claimants and a will contest
SPEECHES AND PRESENTATIONS
Tim recently published "COVID-19 Impact on Post Judgment Collections," a Business Litigation Alert, April 17, 2020.
His most recent presentations include:
"What Amounts Can Be Collected Pre- and Post-Judgment," at the Illinois State Bar Association's "Litigation and Enforcement of Judgments" seminar, 2016.

"Citation and Garnishment Proceedings – Creditor Perspective," at the Chicago Bar Association's "Post-Judgment Issues in Illinois Law" seminar, 2015.

"Citation Examinations Against Corporations and Individuals – What to Look for and What to Ask," at the Illinois State Bar Association's "Complex Asset Recovery – Fraudulent Transfers, Offshore Assets & Charging Orders" seminar, 2015.

"How to Conduct a Citation Examination for Individual & Corporate Debtors," at the "Sophisticated Asset Recovery" seminar presented by the Illinois Institute for Continuing Legal Education, 2014.

"How to Monitor a 'Debtor in Possession' Situation Within a Citation Proceeding and Avoid Bankruptcy," at the Sophisticated Asset Recovery seminar presented by the Illinois Institute for Continuing Legal Education, 2014.
PROFESSIONAL BACKGROUND
Tim joined Aronberg Goldgehn in July 2016. Previously he was a partner with a small law firm in Chicago.
Loyola University Chicago School of Law, J.D., 2008
Marquette University, B.S., Economics and International Business, 2005
BAR AND COURT ADMISSIONS
Illinois
U.S. District Court for the Northern District of Illinois
MEMBERSHIPS
First Municipal Advisory Committee
PERSONAL
What is your favorite place in Chicago? As a resident of Chicago's Streeterville neighborhood, I spend as much time out on the lakefront as I can when weather permits.
What is the best vacation you've ever been on? My favorite, and also recurring, vacation spot is Playa Del Carmen, Mexico. We try to make it down there once a year in the winter.
What is your favorite restaurant? I am a big fan of Coast Sushi in the Bucktown neighborhood of Chicago.