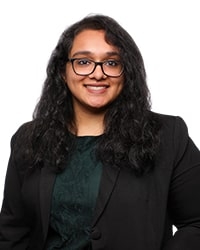 Prathyusha is an Associate in the firm's Insurance Coverage practice group. She focuses her practice on complex coverage issues related to environmental, asbestos, and other long tail exposures, while counseling insurance clients regarding potential liability and strategies for handling underlying liability matters.

SPEECHES AND PUBLICATIONS
In 2019, Prathyusha co-authored 2020 Health Law and Compliance Update, Wolters Kluwer International.

PROFESSIONAL BACKGROUND
Prathyusha joined Aronberg Goldgehn as an Associate in 2022. Prior to that, she worked as Assistant Counsel in the insurance industry, focusing on regulatory and compliance matters, as well as worked as a law clerk for an insurance company while a law student.

While attending Loyola University Chicago School of Law, Prathyusha participated on the National Moot Court Team, earning Regional Champion honors. She was also designated National Champion and Second Best Oralist as a member of the Thomas Tang Moot Court Team. She was a member of the Health Law Society, serving as its Director of Student Outreach. Prathyusha earned CALI Awards for the highest grade in Advocacy, Civil Procedure, and Legal Writing, and was named to the Dean's List.

COMMUNITY INVOLVEMENT
Prathyusha currently coaches the Health Law Moot Court Team at Loyola University Chicago School of Law.

RELATED NEWS
Loyola University Chicago School of Law, J.D., cum laude, 2020
Centre College, B.A., cum laude, 2017
BAR AND COURT ADMISSIONS
MEMBERSHIPS
Chicago Bar Association
South Asian Bar Association
PERSONAL
In her free time, Prathyusha enjoys reading, cooking, watching true crime documentaries, and spending time with family. She also enjoys walking along the lake in Chicago and trying out new restaurants.

What is one item on your bucket list? Travel to Italy.

What would you be doing if you weren't a lawyer? Most likely teaching or writing books. Maybe a little bit of both.

What is your favorite place in Chicago? Anywhere close to the lake, I find it very relaxing and peaceful!

What is the best vacation you've ever been on? Studying abroad in London for a semester during college, and taking weekend trips to Scotland. Not technically a vacation, though it certainly felt like it at times.