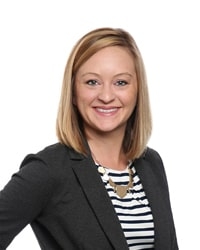 Nicole Miller focuses her practice on representing insurers in complex insurance coverage matters primarily arising under commercial general liability policies and claims-made directors and officers, errors and omissions, and employment practices liability policies. She is experienced in providing coverage opinions as well as in handling all matters of coverage litigation, including pre-suit counseling and advice, motion practice, discovery and mediation.
Nikki has litigated cases in both state and federal courts.
In addition to her coverage practice, she is experienced in commercial litigation and has represented clients in class actions, consumer fraud, employment law and family law actions.
PROFESSIONAL BACKGROUND
Nikki joined Aronberg Goldgehn as an associate in June 2019. Previously she was an associate with Cremer, Spina, Shaughnessy, Jansen + Siegert, LLC. In addition, she worked as an associate at a local suburban law firm where she worked on various civil litigation cases.
While attending Loyola University Chicago School of Law, she gleaned trial skills as a law clerk and judicial intern. Prior to entering private practice, she worked with the Cook County State's Attorney's Office in its Felony Trials Division as a law clerk licensed to perform motions, bench trials and pre-trial conferences. She also served as judicial intern for the Hon. Michael Panter of the Circuit Court of Cook County Law Division, where, among other duties, she edited opinions and motions on a range of legal areas.
COMMUNITY INVOLVMENT
Prior to entering law school, Nikki was a volunteer intern at the Hennepin County Juvenile Probation Office. While there she worked on the Juvenile Detention Alternatives Initiative, a program developed to reduce reliance on local confinement of court-involved youth as well as improve conditions of juvenile confinement.
Nikki also volunteered as a Guardian ad Litem through Loyola's Community Law Clinic while in law school.
RELATED NEWS
Loyola University Chicago School of Law, J.D., 2016
University of Minnesota, B.A., English Literature, 2011
BAR AND COURT ADMISSIONS
Illinois, 2016
U.S. District Court for the Northern District of Illinois, 2017
U.S. District Court for the Northern District of Indiana, 2018
MEMBERSHIPS
Chicago Bar Association
Women's Bar Association
Illinois State Bar Association
Professional Liability Underwriting Society (PLUS)
ACKNOWLEDGMENTS
CALI Excellence for the Future Award Recipient for Criminal Procedure and Legal Writing
Loyola University of Chicago School of Law Dean's List (Fall 2013, Spring 2015, Fall 2015, Spring 2016)
PERSONAL
What would you be doing if you weren't a lawyer?
I would definitely be a librarian. I love books.
What is your favorite place in Chicago?
Anywhere near the lake or river…during Summer.
What is the best vacation you've ever been on?
My husband and I love to travel – but by far my favorite spots we've seen are Lisbon, Portugal and Edinburgh, Scotland.
What is your favorite restaurant?
I love food, so this is very hard. In my old neighborhood in Chicago, Lakeview, it was probably Pho's Thai and Southport Grocery. Now that I'm in Logan Square, I'm pretty much in food heaven.