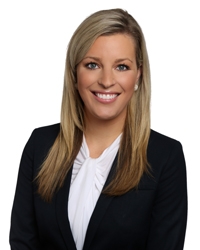 Lindsay Lollio maintains a fast-paced litigation practice representing a broad range of local and foreign individuals and entities in the United States, Asia, Canada and Europe in the areas of civil liability defense, commercial and insurance-related matters.
An experienced litigator, she has defended clients in complex matters involving alleged negligence, medical malpractice, intentional tort liability, premises liability, products liability, construction liability, professional liability and general liability. She has successfully defended clients through trial in high-exposure personal injury cases.
In her commercial litigation practice, Lindsay represents several businesses in matters arising from complex contract disputes, employment disputes and ERISA. She also regularly consults with healthcare clients and business associates regarding HIPAA compliance.
As coverage counsel, she regularly analyzes and litigates complex insurance coverage matters on behalf of insurance carriers concerning a wide breadth of issues, including matters arising from professional liability, directors and officers liability, construction and personal injury litigation.
She has successfully prepared and argued dispositive motions on behalf of clients, including motions to dismiss and motions for summary judgment in state and federal venues. She has also obtained, to her clients' satisfaction, resolutions of matters through alternative dispute resolution.
REPRESENTATIVE MATTERS
Defended a medical professional through trial and successfully obtained a verdict in the client's favor in an alleged medical malpractice lawsuit where the opposing party sought $16 million in damages
Handled complex insurance coverage dispute on behalf of largest foreign government-owned insurance company in federal court
Successfully defended client in professional liability case through verdict
Represented well-known and respected local and international companies in litigation pending in state and federal courts throughout the United States
SPEECHES AND PUBLICATIONS
Lindsay has spoken at local and foreign conferences concerning emerging issues related to the insurance industry, litigation involving foreign clients, e-Discovery and trends in litigation.
She authored an article advising clients in the medical and medical professional liability insurance industry on how to navigate Cybersecurity issues and recent changes to HIPAA. She additionally prepared and presented education and training seminars on regulatory compliance with HIPAA and the HITECH Act.
Lindsay also assisted in preparing "Civil Procedure Before Trial, 2d" (Vols. 3 and 4, Illinois Practice Series), author Richard A. Michael, published by Thomson Reuters.
PROFESSIONAL BACKGROUND
Lindsay joined Aronberg Goldgehn as an associate in May 2014 and was promoted to Member in January 2019.

Since 2017, she has been recognized annually as an Emerging Lawyer in Insurance Coverage and Commercial Litigation by Illinois Leading Lawyers, a designation awarded to less than 2 percent of Illinois attorneys 40 years old or younger or in practice for 10 or fewer years. Since 2018, she was named a Rising Star by Illinois Super Lawyers, a designation awarded to no more than 2.5 percent of Illinois attorneys 40 years old or younger or in practice for 10 years or less.
Prior to joining private practice, Lindsay was a judicial extern to the Hon. Virginia M. Kendall of the U.S. District Court for the Northern District of Illinois.
While a student at Loyola University Chicago School of Law, she served as co-Editor of the Public Interest Law Reporter's Symposium for two years. As co-Editor, she was instrumental in the planning and preparation of two continuing legal education symposia entitled: "Separate and Unequal? The Socioeconomic Realities of Public Education in America," and "Delinquency or Illness? The Intersection of Mental Health and Juvenile Justice." Also while she was a law student, Lindsay was on the Dean's List and was a founding member of the school's Alternative Dispute Resolution Society.
While an undergraduate student at the University of Michigan, she worked as a research assistant at the University of Michigan Institute for Social Research.
Originally from the metro-Detroit area, Lindsay enjoys exploring Chicago with her husband, trying new restaurants, venturing into new neighborhoods and running along the lake.
COMMUNITY INVOLVEMENT
Make-A-Wish Illinois Associate Board, Member
RELATED NEWS
Loyola University Chicago School of Law, J.D., 2010
University of Michigan, B.A., with distinction, 2006
Dean's List, 2003-2006

BAR AND COURT ADMISSIONS
MEMBERSHIPS
Chicago Bar Association
Professional Liability Underwriting Society (PLUS)
ACKNOWLEDGMENTS
Emerging Lawyer in Insurance Coverage and Commercial Litigation by Illinois Leading Lawyers (2017-2020)
Rising Star in Insurance Coverage and Business Litigation by Illinois Super Lawyers (2018-2020)
PERSONAL
What is your favorite thing about working at Aronberg Goldgehn? Everyone is personable and professional. It is a place I look forward to coming to everyday.
What is one item on your bucket list? Learn to speak Italian.
What would you be doing if you weren't a lawyer? I would likely be providing some type of counseling services.
What is your favorite restaurant? La Terra di Nello in Grosetto, Italy