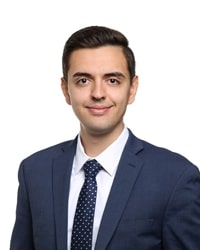 Genc Arifi represents an expansive range of businesses in employment law matters as well as complex commercial litigation in both state and federal courts. He participates in all phases of litigation, including drafting pleadings, motions and memorandums of law. He conducts all phases of discovery, including e-discovery, and has contributed to the trial strategies in complex multimillion-dollar lawsuits.
Genc has experience aiding clients navigate and defend against allegations of consumer fraud and advertising regulatory violations, as well as identify and implement internal operating protocols to avoid future regulatory actions. He worked to successfully defend a municipal official from allegations stemming from acts in his official duty.

He successfully represented investor clients in a federal civil lawsuit under the Racketeering Influenced and Corrupt Organizations (RICO) Act against a financial manager who defrauded tens of millions of dollars from investors and led to the largest default in the Department of Housing and Urban Development's (HUD) history. Genc is also experienced with investigations concerning federal enforcement agencies.

Genc's experience includes handling complex civil matters, employment law matters, accounting malpractice and wrongful death cases, and analyzing financial documents in relation to commercial litigation matters.
PUBLICATIONS
Genc is co-author of "Valuation," Chapter 6 in "Disputes Involving Closely Held Companies 2020 Edition." Published by the Illinois Institute for Continuing Legal Education in Feb. 2020, it is the essential guide for Illinois attorneys who represent closely held corporations, partnerships or LLCs.
PROFESSIONAL BACKGROUND
Genc joined Aronberg Goldgehn in May 2019. Previously he was an associate with Tobin & Muñoz, L.L.C., where he began his legal career as a law clerk.
While at the DePaul University College of Law, Genc was part of the International Law Moot Court team and the International Human Rights Moot Court team. He also volunteered extensively in his community, earning him the Dean's Certificate of Service.
Genc demonstrated strong academic credentials throughout law school; most notably when he achieved the highest grade in Business Organizations, which earned him the CALI Excellence for the Future Award. Genc also participated in a criminal appeals clinic and successfully reduced an indigent client's prison sentence.
Genc is fluent in English and Albanian.
On a personal note, Genc immigrated to the United States when he was seven years old in order to escape the ethnic cleansing taking place in Kosovo at the time. His sense of justice began at an early age when he witnessed the injustices his family and millions of other Albanians faced under an oppressive Serb regime. Genc cultivated a fighting spirit that serves him to this day and allows him to effectively advocate on his client's behalf.

LEADERSHIP ROLES
Genc was elected to serve the Albanian-American Community of Illinois as a board member representing the Republic of Kosovo in 2022.
RELATED NEWS
DePaul University College of Law, J.D., Dean's List, 2016
Western Illinois University, B.S., magna cum laude, Dean's List, 2013
BAR AND COURT ADMISSIONS
MEMBERSHIPS
Chicago Bar Association
Illinois State Bar Association
ACKNOWLEDGMENTS
CALI Award for Excellence for the Future Award in Business Organizations
PERSONAL
Genc has a wide range of interests that include beach volleyball, camping and hiking, cooking, exploring, photography and weightlifting.
What would you be doing if you weren't a lawyer? I would probably be a teacher since I have always enjoyed mentoring others. My father is a teacher and I have seen what a difference a great teacher can make in people's attitude regarding education and life itself.
What is your favorite place in Chicago? My favorite place is definitely the Chicago Athletic Association. It has a setting to match every mood, from the quiet lounge to the game room and the amazing view from the rooftop.
What is something most people don't know about you? If I told you that then I would not have an answer to a similar question in the future.