Firm Hosts Navigant Consulting Attorney's "Lawesome" Presentation
03.06.14
"A LAWESOME lawyer gets the client to its end result and keeps the client focused on what is most important -- the business", observed Pia Thompson, Executive Director/Deputy General Counsel of Navigant Consulting, Inc., when she spoke recently at Aronberg Goldgehn.
Thompson spoke to the firm's women attorneys as well as in-house counsel from various corporations during a luncheon presentation on "LAWESOME: How to Provide and Identify Exceptional Legal Service (as opposed to lawdinary)".
Thompson said that other qualities of a LAWESOME lawyer include "the ability to be a connector that introduces valuable resources to grow a client's business".
On the other hand, Thompson said that a "lawdinary lawyer" can be spotted by, among other things, failing to explain the business ramifications of a particular action and doing exactly what the client asks, without question.
"Our firm strives to stay current on 'best practices' in this constantly evolving environment for legal services, as well as for excellence in meeting client needs, and the insight that Pia shared at our luncheon was invaluable", observed Aronberg Goldgehn member Cynde Munzer. Cynde served as chair of the event.
Thompson has been with Navigant since July 2013. Prior to that time, she worked in private practice for nearly two decades, and developed national prominence in the area of commercial litigation, with an expertise in bankruptcy and creditors' rights.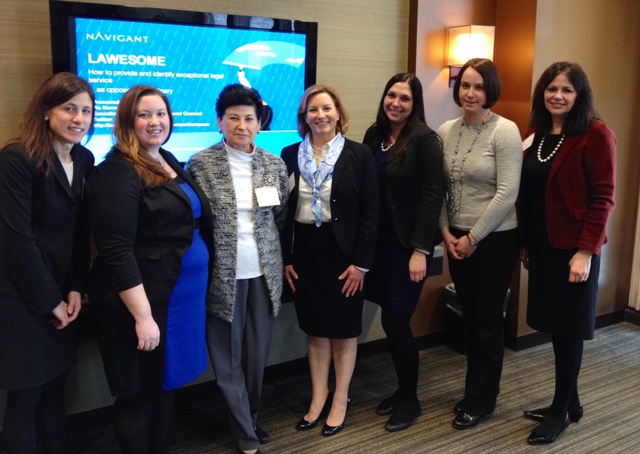 Aronberg Goldgehn Lawsome Presentation attendees with presenter Pia Thompson.
Left to Right: Sheri Zaban, Jacqueline Helmrick, Blooma Stark, Pia Thompson, Kristine Kolky, Christina Perez, Cynde Munzer

330 N. Wabash Avenue
Suite 1700
Chicago, Illinois 60611