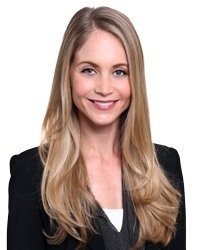 Brianna Sansone has been an Associate attorney at Aronberg Goldgehn since May, 2011. Her practice focuses primarily on complex commercial litigation. Brianna represents creditors, businesses, and individuals in litigation arising from commercial transactions, employment matters, and warranties. She also represents middle market regional banks in commercial foreclosures, collections, bankruptcy, and workout-related litigation. Recently, she represented a Colorado-based stainless steel tubing supplier in its federal lawsuit against a Korean heating element distributor for a variety of breach of warranty claims, which resulted in a favorable out-of-court settlement for the client.

Her client philosophy is to implement litigation strategies that serve her clients' long term goals and business returns. Brianna understands that litigation does not happen in a vacuum; it can and does have real world impacts on day-to-day business operations. Clients are best served by strategies that keep in mind both litigation and non-litigation outcomes. By assessing and learning about her clients' industry, history, and mission, Brianna develops sophisticated, high-value solutions to the unique challenges that can arise in litigation. Pre-planning and research also improves the probability that her work will add value to long-term business goals.

In 2004, Brianna graduated magna cum laude with a Bachelor of Arts degree from Loyola University Chicago where she majored in Anthropology and spent a semester studying history, archeology and Italian in Rome, Italy. In 2009, she received her Juris Doctor cum laude from The John Marshall Law School where she graduated in the top 10 of her class. In law school, Brianna interned for the Illinois Coalition to Abolish the Death Penalty and compiled the only publicly available data on pending capital cases in Illinois. She also attended human rights conferences in Israel and Peru to study the impact of international and constitutional law on post-conflict policy making.

Since 2012, Brianna has been designated as a Rising Star by Super Lawyers Magazine. The 'Rising Stars' list showcases outstanding young lawyers in Illinois, and only 2.5% percent of the lawyers in the state are selected for inclusion each year. She also serves the legal needs of the Chicago immigrant community by lending her time and skills to organizations such as the National Immigrant Justice Center (NIJC), the New Americans Initiative (NAI), and the Chicago Volunteer Legal Services (CVLS). Brianna is a parishioner at Holy Name Cathedral and is a member of its Education Commission, which plans and hosts various learning events during the year for parishioners and other interested parties. In her spare time, Brianna enjoys writing recipes and cooking them for her young daughter. She also has a passion for travel, especially to locations of historical significance.
John Marshall Law School, Chicago, Juris Doctorate, cum laude, 2009
Loyola University, Chicago, Anthropology, magna cum laude, 2004
BAR AND COURT ADMISSIONS
Illinois, 2009
United States District Court for the Northern District of Illinois, 2009
Northern District of Illinois Bankruptcy Court, 2012
Central District of Illinois Bankruptcy Court, 2012
MEMBERSHIPS
ACKNOWLEDGEMENTS
Illinois Super Lawyers "Rising Star" (2012, 2013, 2014)
SPEECHES AND PUBLICATIONS
American Bar Association (ABA) Judicial Intern Opportunity Program Orientation Lecture, "Tips for Young Associates.", May 2011
Association of Corporate Counsel (ACC) Seminar, "Drafting, Negotiating and Litigating Warranties In Contracts For The Sale Of Goods: Considerations Under The UCC Article 2", August 2013
American Bar Association's Young Lawyers Division, "Tips for Making Your First Public Appearance a Success", June 2012
COMMUNITY INVOLVEMENT
National Immigrant Justice Center
New Americans Initiative
Chicago Volunteer Legal Services
PERSONAL
What is one item on your bucket list?
I would love to complete an expedition to the top of Mount Kilimanjaro.
What would you be doing if you weren't a lawyer?
If I wasn't a lawyer at Aronberg Goldgehn, I would like to be archeologist who discovers and studies extinct and ancient civilizations.
What is something most people don't know about you?
Growing up as a teenager in Minnesota, I spent my summers either working at my dad's demolition and excavation company, or mucking horse stalls and taking riding lessons.