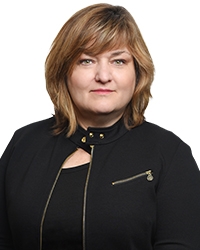 Michaeline Gordon assists business owners, professionals, real estate developers and individuals with all aspects of trust and estate planning, asset protection, generational planning and wealth preservation. She also regularly works with entrepreneurs through the full business cycle, from initial planning for entity selection, to asset protection, and finally to business sale and succession planning.
Michaeline counsels families, unmarried couples and individuals through the development of holistic estate plans that are structured for tax efficiency while addressing unique family circumstances, which may include elder law issues, special needs planning and blended family issues.
Experienced in probate and trust administration, Michaeline works with fiduciaries to administer trusts and decedents' estates. She has also represented large and small banking institutions as outside trust counsel.
REPRESENTATIVE MATTERS
A sampling of her representations includes:
Represented an attorney who is with a major law firm and his wife, a real estate developer, who have a $40 million estate and were concerned about estate tax and asset protection. Established Spousal Lifetime Access Trusts for both spouses for life insurance, liquid and real estate assets.

Represented a physician, in his late 50s with a $10 million estate, who has a younger wife and young children and was concerned about estate planning and asset protection. Created a new plan that took into account his prenuptial agreement and assisted with life insurance planning as an additional level of asset protection.

Represented an executive with a Fortune 100 company who has a $15 million estate and was concerned about estate tax planning and life insurance planning. Put in place A/B trusts, and GST planning; addressed Code Section 529 planning and estate equalization.

Represented a business owner in a second marriage with a blended family. Put in place a plan for her blended family to take into account issues around the business and potential valuation issue for the stretch out of her large 401 (k) and IRA accounts.
PROFESSIONAL BACKGROUND
Michaeline joined Aronberg Goldgehn as a member in March 2018. She previously was a partner with Ginsberg Jacobs LLC.
In 2018, she was named by Crain's Custom Media as a "Notable Woman Lawyer in Chicago."
SPEECHES AND PUBLICATIONS
Michaeline is a frequent public speaker on wide ranging estate planning topics. Her recent presentations include:
"What Legal Structure Works for You? In Today's Tax Environment, How Should a Business Owner Think About the Legal Structure of Their Firm?" at XPX Chicago's monthly meeting, June 20, 2018.
"Estate Planning Update - What's Changed, What's Not: Ten Tips for Investment and Estate Planning After the Tax Cuts and Jobs Act of 2017" at the University of Club of Chicago's Investment Society Luncheon, March 15, 2018.
"Drafting IRA Trusts," a National Business Institute webinar, Dec. 19, 2017.
"Trusts: The Ultimate Guide," a National Business Institute webinar, Dec. 14-15, 2017.
"Driving Important Client Conversations Around Trustee and Other Fiduciary Appointments; Best Practices for Navigating Potential Cognitive Impairment," Moderator, at a Northern Trust and Advocate Charitable Foundation seminar, Nov. 3, 2017.
"Financial Wellness in a Time of Uncertainty: What to Anticipate and How to Adapt," at an Advocate Christ Medical Center seminar, Oct. 16, 2017.
"Estate Planning from A to Z," a National Business Institute webinar, July 25, 2017.
"Financial Preparedness for a New Administration: What to Expect and How to Adapt," at a Gottlieb Memorial Hospital seminar, June 2, 2017
"Drafting IRA Trusts (Overview of IRA Trusts & Drafting an IRA Trust),"a National Business Institute webinar, May 10, 2017.
"Troubleshooting 2016 – Top Problems In Common Estate Planning Tools," a National Business Institute webinar, April 12, 2017.
"Trusts and IRAS in Estate Planning – What You Need To Know," at an Estate Planning Council of Putnam County, New York, seminar, March 6, 2017.
"Supercharging Your Retirement Accounts Through Estate and Investment Planning," at a University Club of Chicago seminar, March 21, 2017.
"Estate Planning Troubleshooting," at a National Business Institute seminar, Feb. 10, 2017.
"Post-Mortem Planning, Trust Administration and Tax Hurdles," a Strafford webinar, Oct. 31, 2016.
"Charitable Planning Opportunities Now," a National Business Institute webinar, July 18, 2016.
"Tips and Strategies to Maximize your Retirement Accounts at Age 25, 50 and 70,"at the University Club of Chicago: February 9, 2016.
COMMUNITY INVOLVMENT
Michaeline is committed to raising awareness about planned giving to benefit organizations for the empowerment of women, children and their families. She has served on many Charitable Boards and currently serves on the advisory board for Advocate Charitable Foundation and the Illinois Masonic Hospital Donor's Council.
LEADERSHIP ROLES
Roosevelt University, Heller College of Business Administration, Advisory Board President
Advocate Charitable Foundation, Advisory Board Member
DePaul University College of Law, LL.M in Taxation, 1992
The John Marshall Law School, J.D., 1985
University of Illinois, Urbana-Champaign, B.S., 1982
BAR AND COURT ADMISSIONS
MEMBERSHIPS
Chicago Bar Association
Exit Planning Exchange, Chicago Chapter
PERSONAL
Michaeline is a native of Chicago and resides in Chicago's South Loop, where she has lived for more than 15 years. She is both a squash and tennis enthusiast.
What is one item on your bucket list? Biking in San Juan Islands.
What is the best vacation you have ever been on? British Columbia.
What would you be doing if you weren't a lawyer? I'd be a guru.